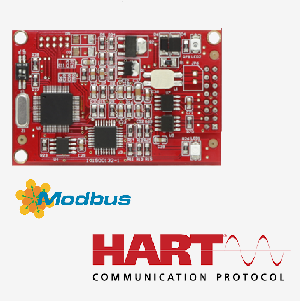 General instroduction
the main feature of m-series built-in module is embedded into the device with modbus interface, making it is able to access to the mainstream fieldbus network. m- series modules have the characteristics of same size, same interface, easy to upgrade and easy to configure. using our various modules, users need to modify the hardware just once to achieve device with different fieldbus protocols.
M-series built-in module provides protocol transformation capabilities from Modbus to PROFIBUS DP,PROFIBUS PA, HART and Foundation Fieldbus.

Same Size
65mm(length)*42mm(width)
Same Interface
The connector of M series built-in modules is 2.54 pitch 16 pin, function of them are compatible.
Easy to Upgrade
To realize the devices with different protocols, Replace it with different modules
Easy to configure
 Please use the special tool provided for configuration, it is easy to operate.
 Connecting with different control system (Siemens, Emerson, Schneider Electronics, ABB, Yokogawa, Rockwell, etc).
 Support the process of the mainstream industry communication protocols (PROFIBUS DP,PROFIBUS PA, HART and Foundation Fieldbus).
 Support DD files, easy to configure parameters.
 Support three-year warranty from the date of purchase.
Measuring Object

Modbus RTU slave device

Power Supply

(6~42)VDC

Bus Protocol

2-wire,(4~20)mA+HART

Load Resistance

(0~1500) Ω(normal)

(230~1100) Ω(HART communication)

Isolating Voltage

Modbus and HART bus interface,500 VAC

Temperature Range

(-40~85) ℃

Humidity Range

(5~95) %RH

Start Time

≤5s

Refresh Time

0.2s

Damp Adjust

Time constant 0~32s

Output Current Accuracy

Max. error is ≤50 μA